Small Business Center (SBC)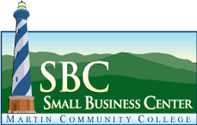 Welcome to the Martin Community College Small Business Center (SBC). The Martin Community College SBC is a part of the North Carolina Community College Small Business Center Network (SBCN). The objective of the SBCN is to increase the success rate and the number of viable small businesses in North Carolina by providing high quality, readily accessible assistance to prospective and existing small business owners which will lead to job creation and retention. Martin Community College SBC is your community-based provider of education and training, counseling, referral and information.
Training
The SBC conducts seminars and workshops designed to better educate the small business person to meet the ever-increasing challenges facing small business. Core programs are offered twice a year and include:
How to Start a Business
How to Write a Business Plan
Marketing Your Business
Finding Your Customers
Financing Your Small Business
Tax Information for Small Businesses
Basics of Bookkeeping
Seminars and workshops covering other topics are also offered that bring professional training opportunities to the area's prospective and existing small business owners. Training sessions are offered as free or low-cost seminars, workshops, and short-term courses. Click below to see a complete list of our seminars and to pre-register. Pre-registration is required.

See schedule of seminars and seminar descriptions
Counseling
The SBC also offers free, one-on-one, confidential counseling by appointment. Our professional counselor can assist your new or existing business in a number of areas including but not limited to financial planning/evaluation, business plan preparation, securing funding, marketing, company structure and many other areas. To receive counseling assistance, please submit an electronic request for counseling:
Resources
Our Small Business Resource Center is available in the Martin Community College campus library. In addition to books, periodicals, and other materials, the resource center includes access to a personal computer for business planning and research. In addition to our local resource center please visit the North Carolina Small Business Center Network website at https://www.ncsbc.net for additional links and resources.
We're here for you
If you're considering a new business venture, expansion, or need help with existing small business issues, we're here for you! Our business is helping businesses succeed. Whether it's through additional training, one-on-one counseling or providing the contacts and information you need, we're here to serve you. We understand the problems small businesses face, and the services we provide are at low or no cost to you.

Contact the MCC Small Business Center at 252-789-0202 for more information.
---
Industry Customized Training Program
The SBC also offers free one-on-one confidential counseling by appointment. To receive counseling assistance, please submit an electronic request for counseling:
What We Do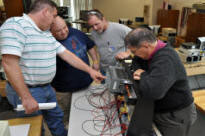 The Customized Training Program provides education, training and support services for new, expanding and existing business and industry in North Carolina through our network of 58 community colleges, serving all 100 counties of the state. Our goal is to foster and support three key aspects of your company's well-being:
Job Growth
Technology Investment
Productivity Enhancement
The Customized Training Program is designed to make a difference in your bottom line, whether your organization is creating jobs, investing in new machinery and equipment, or streamlining processes for efficiency.

For more information call or email:
Assistant to the President for Business & Industry
252-789-0303